The aviation handheld radios are lightweight and easy to handle communication devices, unlike the fixed types. They allow the pilot and their crew to communicate with control towers while onboard the aircraft.
Operating on a principle similar to that of the intercom, this portable radio device is also used for exchanging navigation data. Updates on aircraft, weather, and other conditions are just some of the types of information that can be retrieved by an aviation handheld radio.
We have compiled a list of the best aviation handheld radio models on the market.
Best Aviation Handheld Radio Comparison Chart 2022
RX 25-54 MHz
108-174 MHz
225-380 MHz
400-512 MHz

1800mAh Li-Ion
AA Battery Tray

TX 118.000 - 136.975 MHz
RX 108.000 - 136.975 MHz
161.650 - 163.275 MHz
329.150 - 335.000 MHz

TX 118.000-136.992 MHz
RX 108.000-136.992 MHz
161.650-163.275 MHz

1800mAh Li-Ion
AA Battery Tray

TX 118.000 - 136.975 MHz
RX 108.000 - 136.975 MHz
161.650 - 163.275 MHz

RX 78 - 87.295 MHz
87.3 - 107.950 MHz
108 - 136.991 MHz
137 - 174 MHz
406 - 512 MHz

TX 118.000-136.975 MHz
RX 108.000-136.975 MHz
161.650-163.275 MHz

TX 118.000 - 136.975 MHz
RX 118.000 - 136.975 MHz
161.650 - 163.275 MHz

TX 118.000–136.992 MHz
RX 118.000–136.992 MHz
WX 161.650–163.275 MHz

TX 136 - 174 MHz
400 - 520 MHz
RX 136 - 174 MHz
400 - 520 MHz
68 - 108 MHz
The Best Aviation Handheld Radio Reviews 2022
1. Uniden Bearcat BC125AT Aviation Handheld Radio
The Japanese company Uniden stands out for its renowned reputation for wireless communication. Intending to help to develop human communications through technology, it always seeks to create and improve products in the making or already present on the market. One of these items which is typical of its product range is, of course, the BC125AT manual scanner radio.
This radio offers a series of frequencies ranging from 25 MHz up to 960 MHz. It has a large storage capacity of up to 500 stations, which are divided into ten groups of 50. Each channel and modulation mode is memorized.
The Uniden scanner radio scans the initial frequencies toward the final frequencies for programming from 0 to 10 seconds. It can scan the VHF and UHF wavelengths, and thanks to Close Call technology, it can identify frequencies that are nearby and which emit the strongest frequency range. It also automatically scans the 10 frequencies identified in the last position.
Its functions can be programmed via a computer. But you will need to install the ARC-125 application. This software will allow data management, as well as data copying and frequency searching through internet browsing using the web capture option.
Uniden's portable scanner is an improved radio both in functionality and in portability. This is thanks to its LCD screen, level of brightness and contrast adjustment system. With intuitive lighting technology, it adapts to ambient light. It saves energy during the day and increases clarity in dark areas. Sporting a compact design and very light finish, it weighs only 175g. It has a visual indicator of the received signal level, which can help with good transmission and better performance.
However, it comes with a negative point. While it is durable, has good sound quality and is suitable for beginners, being the scanner that it is, it can only receive air bands. It will not transmit.
However, the Uniden scanner radio is a multipurpose device. It can be used on a civilian or military aircraft, by police and fire departments, for auto racing and more.
2. Icom IC-A24 Nav/Comm Aviation Handheld Radio
The IC-A24 from ICOM is our top pick of this pack. It is a portable aviation radio distinguished by the 8.33/25 kHz spacing configuration and its long-range! The IC-A24 stores the last 10 frequencies used. You can easily recall these frequencies by pressing the "Flip-Flop" buttons on the front of the device. It is very practical to change frequencies quickly.
For navigation, the IC-A24 has a VOR receiver. DVOR mode shows you the radial you are on from or to the selected station. The external power outlet allows use with a wall charger or a cigarette lighter cable of the CP-20 type. The pack includes a NiMH 1650 mAh battery, wall charger, belt clip, user manual, an antenna, and a carrying case. When the battery pack is installed, charging simultaneously with use is also possible.
With battery, the radio weighs 430g and 180g without the accumulator and antenna. It has dimensions of 15 x 5 x 3.5cm without an antenna. It also has a water-resistant construction that allows its use in wet conditions.
A point to note with the IC-A24 is that some defective models produce unpleasant squealing feedback sounds.
Coming with full functionalities of a navigation receiver and communication transceiver, this is arguably the best portable aviation radio.
3. Yaesu FTA-750L Aviation Handheld Radio
The YAESU FTA-750L handheld radio is a combination of innovation and tradition. It comes from a brand with a history of very high-quality communication devices. The radio boasts of a 66-channel GPS receiver built for reliable in-air navigation.
The airband transceiver features a large-sized LCD. One of its functionalities that make it suitable for aircraft use is its ILS and VOR navigation features available on the NAV band. Then, it has a waypoint navigation functionality with an integrated GPS receiver.
Also, the radio includes a weather monitoring band for the NOAA. With the simple channel recall function, you can program 200 memory channels and make use of them easily when needed.
It is easy to use in-flight (ergonomic and well thought out) because the radio can be operated with one hand. The keyboard with large keys allows easy use and the large screen allows easy and fast reading of the selected frequencies. It has a range between 108.00MHz and 136.975MHz.
You can easily reprogram the device in a few minutes by using the included USB cable on the programming software on PC.
Despite its strengths, it is not without flaws. The radio isn't very intuitive for first-time users. You may need to consult the instruction manual multiple times.
However, it is a very rugged device that has navigation, communication and GPS options.
4. ICOM A25C Aviation Handheld Radio
ICOM radios are pilots' favorite radios, and the Icom IC-A25 is one of its most outstanding models. The ICOM A25C is an aviation radio with 8.33/25 kHz. It features a 2.3-inch LCD screen which allows better visibility. The output power has also been improved (6W PEP). The interface with the keys and its directional pad allows you to access the menu quickly.
The device has a NIGHT mode screen for readings during night flight. It features a FLIP-FLOP frequency reminder. This helps you to quickly find your last 10 frequencies used. It also comes with the ANL Auto Noise Limiter.
This model comes with a standard-type battery with more capacity – a rechargeable lithium-Ion 7.2V 2200mAh battery. It has an autonomy of about 10 hours. The battery status is usually displayed on the screen.
Besides, it has a SIDE TONE function to listen to your voice during your call via an external aviation headset. It can transmit between 118.000-136.992 MHz, and the reception is between 108.000-136.992 MHz. It comes with a memory channel of 300 frequency (15 groups) names with 12 characters.
It is rated as IP57. This means it is dustproof and water-resistant. It has a weight of 384g (with antenna and battery) and a dimension of 5.89 x 14.84 x 3.18 cm. Included accessories are a fast charger, adapter for general aviation hull, 7.2V lithium-ion battery, battery box working with 6 AA batteries (not included), a belt clip, an antenna, a wrist strap, and an instruction manual.
While this is a great airband device for the aviation business, the IC-A25 would have been a perfect aviation radio if it were integrated with Bluetooth and GPS.
However, it is still a very functional aviation radio with a powerful battery, practical features and a full pack of needed accessories.
5. Yaesu FTA-550L Aviation Handheld Radio
Here's another great Yaesu product. The Yaesu FTA-550L is a very portable handheld VHF transceiver. It's an incredibly built device that features an IPX5 water protection configuration. This means you can deploy it in different environments and purposes. In fact, versatility is one of the essential features of this device.
The Yaesu model has a stunning 1.7 x 1.7 inches dot-matrix LCD and a very impressive, easy-to-use menu system. The brightness of the backlight is adjustable so that the pilot can use it comfortably in various situations.
When it comes to navigation, the FTA-550L radio is also a very useful device. As soon as a VOR signal is picked, it automatically transmits it to its NAV screen. It equally supports navigation with the ILS locator. You can also store up to 200 memory channels on it. It features a battery with a long lifespan (specific time frame should be mentioned).
This model comes from a reputable brand and is good for navigation. But one major drawback of the radio is that it works best with accessories.
We consider the FTA550L one of the best handheld airband radio due to the fact it is light, pretty versatile and has an easy to use interface.
6. ICOM IC-A25N Aviation Handheld Radio
The Icom IC-A25N is a very powerful handheld airband radio with 6W power. Weather cannot stop these radios as it has an IP57 rating, meaning that it can resist dust and water.
The aviation radio has an 8.33/25 kHz spacing configuration. This radio has a 2.3-inch LCD screen which allows you to have better visibility and access frequencies at a glance even during daylight. The interface with the keys and its directional pad allows you to quickly access the menu.
A significant feature of the IC-A25N radio for pilots is the integrated GPS. It allows you to navigate from waypoints or to download your flight plan via the RS-AERO1 application in Bluetooth®.
This model also has a NIGHT mode screen which lets pilots have good visibility during night flight. The FLIP-FLOP frequency reminder also lets you quickly find the last 10 frequencies used. It features a larger rechargeable Lithium-Ion 7.2V 2350mAh battery. This has a battery life of about 10 hours and 30 minutes.
The good thing about this model is that it builds on the shortcomings of the A25C. It integrates GPS for better navigation and Bluetooth for swift connectivity. However, you cannot have both navigation and communication functions (you can only choose one or the other).
Despite the downside, the radio is still one of the best available handheld aviation radios on the market.
7. ICOM IC-R6 Aviation Handheld Radio
This is a handheld and portable receiver for professionals and amateurs who wish to listen to aviation bands. This receiver has a wide frequency and is equipped with an LCD screen, and a keyboard.
The ICOM IC-R6 receiver is compact and powerful. It offers a scan of 100 channels per second. The keyboard allows easy use and the large screen allows easy and quick reading of the selected frequencies. The buttons and the LCD screen have an automatic backlight. Very small and lightweight, it measures dimensions of just 5.8 x 8.6 x 2.98 cm and weighs just 200g. It is an IPX2 standard radio, meaning that it can resist humidity: water drops and sweats.
It has 1300 frequency memories (22 banks) and wide spacing of 100kHz-1309.995MHz. It supports AM, FM and WFM waves. It allows the scanning of 100 channels per second. It comes with the Voice Squelch Control (VSC) function – it opens the squelch only when a signal is detected.
The autonomy of the R6 surpasses all other models' already reviewed as, thanks to its Ni-MH batteries. It can be powered for 15 hours.
It comes with accessories such as wall charger, antenna, 2 R6 Ni-MH 1400mAh batteries, belt clip, and an English manual.
All radio devices have their strengths and weaknesses. On the latter, it is that the R6 doesn't have a keypad that you can use for entering frequencies.
Nonetheless, it's still a small and high-quality radio with high battery power, suitable for both aviation professionals and amateurs.
8. Uniden Bearcat EZI 33XLT Aviation Handheld Radio
Uniden's Bearcat EZI 33XLT is a handheld mobile radio scanner designed to cover low VHF, airband, FM, UHF and VHF bands. It is so small that you can easily hold it in your hand, attach it to the belt or carry it in your pocket.
It covers a frequency range from 25 MHz to 1300 MHz. It is equipped with the Close Call option which allows you to scan the signals in the vicinity. The radio can record the transmission frequency nearby. The scanning can be defined according to the location, and according to a very distinct distance desired.
With the most extensive memory capacity, programming via a computer is made possible. And it is equipped with the most advanced options. It can scan available frequencies in 5 different search bands. It places fixed channels in 9 banks. This allows for easy access to preprogrammed and interesting frequencies.
The package comes with a scanner radio, an antenna, a belt clip, 3 AA batteries, an instruction manual and an earphone.
One downside this device has is that the sound is usually of poor quality when an external speaker is connected via its audio output port. However, the manufacturer already discourages such use.
Still, the radio is a great multipurpose device designed for several uses. Hence, it is one of the best radios for use on civil and military aircraft.
9. Yaesu FTA-450L Aviation Handheld Radio
We round up the list of the best handheld aviation radios with yet another Yaesu model. This is thanks to the Brand's consistency in high-quality production. It is very similar to the previous two Yaesu radios, except that it's a "COMM-only" model. However, the FTA-450L has a relatively large 1.7 x 1.7 inches screen with an equally easy-to-use icon menu.
Because it's just a communication-only device, the product was obviously made with great clarity. It features an internal 800mW audio speaker. This is very loud that it guarantees that your call will never be missed. It also features an industry-standard 200-channel programmable memory bank. This lets you store all your favorite channels and easily recall them whenever necessary.
Despite being a very functional communication transceiver, it does not have a navigation system. It is also not as versatile as the two previous models.
However, we still consider it one of the very best airband radios because it is a very light device that can be easily held. It also has an 800mW audio output, an 8.33 kHz narrowband and a very valuable package.
10. BaoFeng UV-5R Dual Band Aviation Handheld Radio
This model comes from another renowned Asian brand, BaoFeng. It is a powerful and legitimate radio powerful enough to be in possession of the amateur radio user. Unlike other bi-directional radios, the package includes a single radio. However, its reception in VHF (it is a dual-band) is as good as in UHF. Differing from others, it comes in a yellow design. It is also a two-way radio which can transmit and also receive on UHF and VHF. It is a low-budget radio which can be used on airplanes.
It has 128 channels and an easy-to-read backlit display. Tinkering on the keyboard is quite easy. It has good battery life. And when it is about to run out, an acoustic signal will alert the radio amateur. Structurally, it is a robust radio. It offers a good non-slip grip and good resistance to splashing water.
The package includes the charger. It also includes the headphones, microphone, antenna, belt clip, hand strap, programming cable and more. You can listen to both NOAA weather reports as well as FM radio stations with it.
The only flaw is this is not a professional aviation radio; you can't listen to the aviation band.
If you are interested in Baofeng radio, you can read our article: Best Baofeng Radios of 2021.
What to Consider When Buying an Aviation Handheld Radio?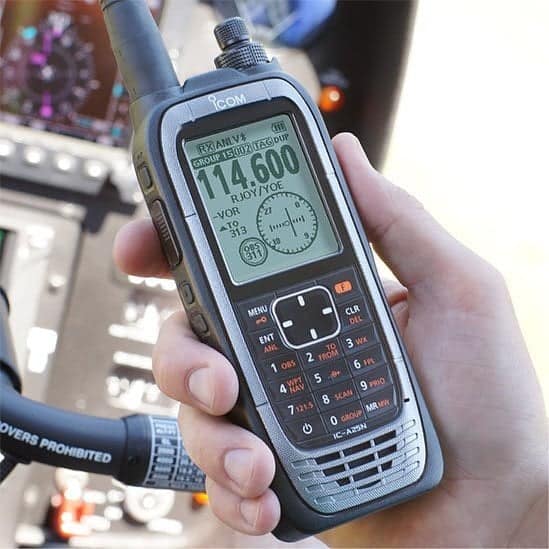 Choosing the best handheld aviation radio will help you keep up with flight information and transmit needed information. We have reviewed a few things to consider that you should keep in mind when making your purchase.
Use and type of format
Some radios are better designed for use in emergencies than others; thanks to a comparison, the decision would be easier. If you need a device that works well in emergency or disaster situations, look for one with an automatic connection to a local weather warning system.
Where you live or what you want to listen to will help you determine what type of format you will need. Digital radio is capable of encoding and decoding digital information over the air.
It offers many more advantages over analog signals such as range clarity. These advantages mean that digital radios continue to gain popularity, although they are more expensive than analog systems.
Channel and search mode
The number of channels available on the radio will determine the number of transmissions you can listen to. Some can give you 30 to 50 channels while others will give you a thousand channels.
The most common you'll find is 200. If you want to listen to a few channels, a basic choice is excellent.
However, if you want to switch between several transmissions, you will have to opt for models with a high number of channels.
Choosing a radio to prioritize local radio signals makes it easier to find and listen to local radio transmissions. This is usually what most people want to hear. If you discover that you are unable to pick up certain frequencies in your area, it may be because the radio system is a closed circuit. To access this system, you will need a radio scanner with a tracking system to obtain an even more precise result.
Light construction
The handheld radio device is the smallest of the types of radios. It is designed to be easily transported, which makes it as light as possible. So, when choosing a handheld aviation radio, ensure it doesn't exceed 300g. Then, watch the dimensions. A model with 5 x 8 x 3 cm dimensions (without the antenna) like the Icom IC-R6 is great. It will be easy to hold, have on the waist, and tucked in the pocket.
Wrapping Up
To get the best handheld aviation radio, carefully study the use and type of format, the memory channel, and the type of construction. As a verdict, our top pick, the Icom ICA24 Handheld Radio, is the best handheld aviation radio on this list.
Coming from a reliable manufacturer, at a good price, with a long-lasting battery, a long range, and light construction, the radio ticks all the boxes as far as a high-quality airband radio is concerned. You may decide to purchase this radio. However, any other model in this review will equally be a wise investment.